Tourism is doing well in the Czech Republic. Why is that?
Two years ago I was in Znojmo in July. Local hoteliers lamented that the city was empty, half the hotels closed and tourists were nowhere in sight. We then talked for a while about how to improve occupancy.
Last year, all the hotels were open. And this year, you had no chance to find a vacancy in Znojmo if you decided that you wanted to go to South Moravia for a weekend on Thursday. This doesn't just apply to Znojmo, but the whole Czech Republic.
Let's briefly summarise why this is so.
Return of the Czech tourist
Indeed, many more Czechs have begun to travel around the Czech Republic in recent years. There are many reasons. Safety. We are becoming wealthier. We have had our fill of foreign holidays. A lot of people choose to travel around the Czech Republic in summer because it's nice and warm here too. After all, they can go to the seaside when the weather turns cold and harsh. Interesting destinations have finally been created, hotels are expanding services, cities have invested in infrastructure, and new programmes and leisure activities are emerging everywhere.
Security – terrorists have not hit yet
No terrorist attacks have taken place in the Czech Republic so far. Paris, London, Barcelona, German cities – something has happened everywhere, and there's probably more to come. Many people have told me that terrorism has discouraged them from travelling to the world's metropolises. It's lovely here at home too, isn't it?
Ten of the safest countries in the world
Iceland
New Zealand
Portugal
Austria
Denmark
Czech Republic
Slovenia
Canada
Switzerland
Ireland
Source: Global Peace Index 2017
We don't want to hear it, but it's true. We're wealthy.
We all know that Germans and Austrians are wealthy. So are the French and English and Northerners and…. Few people in the Czech Republic want to hear that we're affluent too. We're doing well. Everyone has a job who wants one. We're earning good money. Almost none of us live below the poverty line. We buy the food we feel like, even on Sundays. Almost everyone can go on holiday. Few have no money to repair the fridge when it breaks down. We're literate; do you know anyone who can't read and write?
Foreign shores are not everything
It's 28 years since the revolution, and many people have had their fill of trips to southern Spain, the Champagne region of France, the Italian coast. Globalisation has meant that you find the same store brands wherever you are. Many destinations have come closer and a visit there is no longer a matter of a week – you're in Dresden from Prague in an hour and a half by car or in Berlin in 3.5 hours by train.
Barkeepers have learned to be pleasant
Services have shown unbelievable resistance. Amiable waiters, smiling waitresses, pleasant hotel receptionists, enthusiastic castle wardens. Certainly not everywhere, but it's getting better. Five years ago, I took my family on a week's vacation to the Orlické Mountains. We wanted to have lunch at restaurants on our outings. We couldn't. Obnoxious staff – don't you love it when they say "can't you see I only have two hands"? Poor food. No regional specialties, all the same menus – pork with sauerkraut, sirloin in cream sauce, fried cheese. Over and over. However, I'm an optimist, every year I see improvement.
A fun programme, a place I want to come back to
Hotels, cities, other localities have finally understood that they have to stand out in some way for people to want to go there. And especially to come back. For example, a beer spa (Rožnov pod Radhoštěm), weekly yoga courses (Svatá Kateřina Resort), farms offering organic food from their own animals and vegetables (Toulcův dvůr), wine trails (Kyjov, Znojmo, Mikulov) and much, much more.
There are lots of places to go
Have you noticed a lot of new guest houses and private hotels have opened? Successful entrepreneurs and enthusiasts are repairing farms in the regions where they were born, building accommodation and inventing other programmes (Ratměřice Chateau, Penzion Rokytno). Old hotels are being slowly renovated. City centres are being repaired. There are educational trails in forests. New look-out towers. Trails in the tree tops (Šumava), rope parks (Bedřichov in the Jizera Mountains). "Formula" tracks on the downhill slopes (Deštné v Orlických horách). Catch a trout in a pond and the restaurant will prepare it for you for dinner (Pstražné, Davidův mlýn).
The economy is booming
People are spending, there's no unemployment (unemployment was 3.8% in September 2017), inflation is still down (2.2%), companies are manufacturing for dear life, real estate is being sold, journalists are feeding us articles about a great and bright future. We are feeling good, so we are travelling. May it last forever and ever.
Source: CNB statistics
Number of guests in collective accommodation establishments (year-on-year change)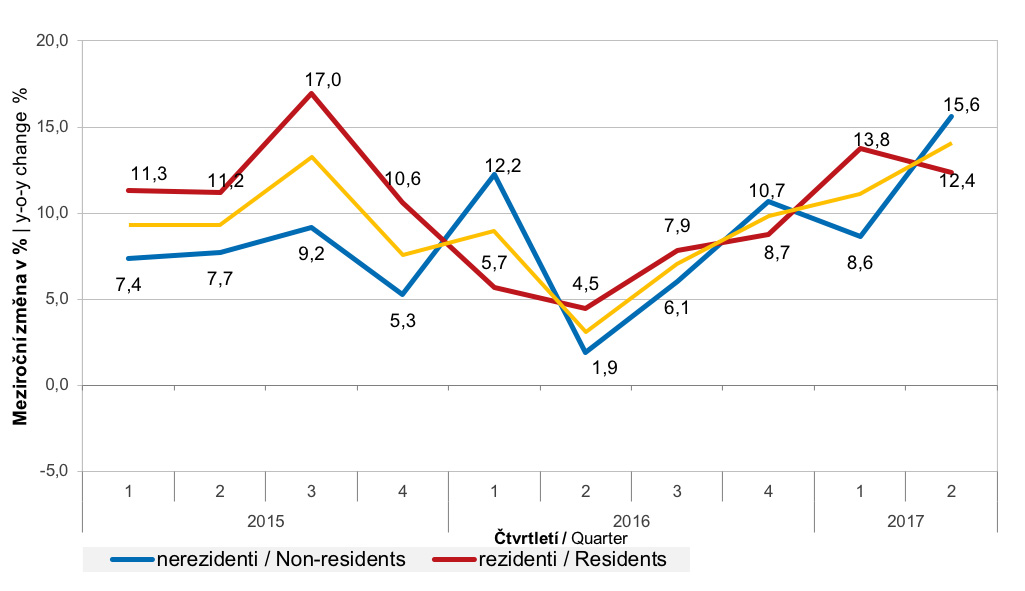 Traffic growth in regions between 2015 and 2017, 1st half